Concert Review: Tim McGraw at BamaJam in Enterprise
Not even a southern storm could stop country superstar Tim McGraw from performing his heart out last night at the BamaJam Music Festival in Enterprise, Alabama. After an afternoon wrought with chaos that blew a transformer, damaged the stage, and soiled most of the scheduled acts' equipment, BamaJam Farm was evacuated to the parking areas until nearly 9 pm. Festival goers lined up patiently at the entrance, anxious to return to see their favorite acts. Others decided to head back to the mud pit of a parking lot to tailgate the night away while the storm subsided. The common theme was that no one, from the audience, security, or staff, knew what was going on. Needless to say, the BamaJam organizers weren't very prepared for rain or lightning.
While performances by Darryl Worley, Third Day, and Willie Nelson were ultimately scrapped due to time constraints, headliners Eric Church and Tim McGraw took their respective stages after heavy scrambling by the road crews. The duo were heavily encouraged by a very large Thursday night crowd, not to be put off by a little rain and a lot of mud; this is Alabama after all.
After Eric Church completed his solid, crowd-pleasing set including 'Sinners Like Me' and 'Springsteen,' Tim McGraw took the stage like a true legend, complete with black cowboy hat and boots, tight blue jeans and a dusty blue tee that enhanced biceps that were hard to miss.
Tim hasn't had the easiest couple of years professionally, as he has spent most of the last twelve months involved in a legal battle with his label Curbed Records over his new album Emotional Traffic. Although completed in 2010, the label released the album in January of this year. Lawsuits and counter suits ensue, and it is possible that legal restrictions are preventing live performances of the album's material. Maybe the songs have just become a bitter reminder of the struggle, but regardless of the reason, his set Thursday night didn't include a single track from the new album.
The grateful, wet, and muddy fans cheered as he began with the wholly appropriate 'Down on the Farm' from his 1994 album Not A Moment Too Soon. He quickly launched into 'Real Good Man' letting loose the swagger he is known for. His third song, 'Where the Green Grass Grows', from 1998 album Everywhere, took me right back to my youth when I first became a fan of this country icon. I remained here in my time warp 'For a Little While', and 'Something Like That', and was pleased to discover that 'Just to See You Smile', had not lost any of its charm and sentimentality over the years.
After introducing himself to the crowd (as if that was necessary) and graciously thanking his band for agreeing to play, he lightened the mood, joking that this could've turned into Alabama's largest wet t-shirt contest. The weekend isn't over yet, Tim!
I wasn't familiar with 2002's 'Sing Me Home,' and 'Southern Voice' but I was seemingly the only one, as the crowd sung along to each and every lyric.
As a gift to those crazy enough to spend their evening on a muddy farm in the rain, the band launched into Lynyrd Skynyrd's 'Sweet Home Alabama,' and although blue skies simply weren't in our forecast, this crowd didn't care. Tim wrapped up his set with his inspirational ballad 'Live Like You Were Dying.' It was a nice moment, reflecting on life and all the twists and turns it takes.
While the entire set weighed heavily on his Greatest Hits, most of which were recorded more than 10 years ago, the crowd loved every minute of it, singing along with their favorite songs and hanging on his every word. McGraw had great stage charisma, pumping his fist to the beat, and bathing in the spotlight. Although the entire set was plagued with minor technical difficulties due to the storm, the crowd was grateful for the performance and pretended not to notice. In all, Tim McGraw was the consummate professional, braving the elements to give the Alabama crowd exactly what they'd paid their hard earned dollar to see.
Tim McGraw BamaJam Setlist
Down on the Farm
Real Good Man
Where the Green Grass Grows
Just to See You Smile
For a Little While
Sing Me Home
I Like It, I Love It
Southern Voice
Something Like That
Sweet Home Alabama (Lynyrd Skynyrd cover)
Live Like You Were Dying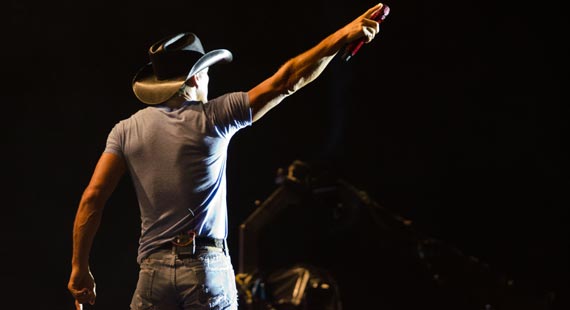 Mark Runyon | ConcertTour.org
Around the Web