Are Women The More Interesting Sex In Music?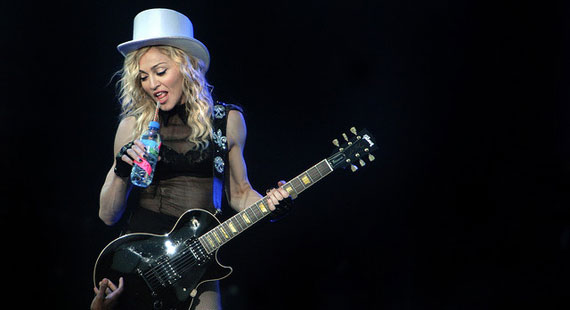 photoproject.eu | Shutterstock
Madonna has recently made another notable notch in her three decade controversy crusade. The superstar took her antics into the 21st Century by uploading a selfie with her defiant hairy armpit in full view, proclaiming: "Long hair…… Don't Care!!!!!! #artforfreedom #rebelheart #revolutionoflove". In all seriousness, what male pop star would attack a social convention as widespread as female grooming? I struggled to think of anyone.
Women are by far the most captivating of the two genders when it comes to chart-topping pop. For example: Lana Del Rey appears like a mystical glamor-puss plucked from an imaginary world stuck in the mid-20th century. Lorde on the other hand is fast becoming a musical maverick and a current affairs pundit: taking a sly dig at this year's BRIT Awards sponsors MasterCard in her acceptance speech by mimicking their "Priceless Surprise" slogan. Meanwhile, Adele can just stand there in a black dress and sing, receiving attention and praise precisely because she isn't a one woman theatre group with wigs, flashing lights and an accompanying dance ensemble. Ke$ha might pretend to commit crimes and lie about being a total badass but at least she gets my attention, even if I really really don't want her to. Japan's biggest pop starlet Hatsune Miku is a "digitally synthesized voice encapsulated in a crowd-sourced humanoid persona" and technically doesn't even exist, try that for interesting.
Men on the other hand are comparatively lackluster, safe and predictable. None of them are as colorful and audacious as Katy Perry or Nicki Minaj, very few grab the headlines like Miley and none can rival the pop-culture influence of Gaga or Beyonce. The stiffest competition (at least in pop-culture influence terms) is provided by Jay-Z and his partner in crime Kanye West. Although one for marrying the world's biggest reality star and thinking leather jogging pants are a good idea (here's a clue: they're not). Not forgetting the good music, by the way. The other seems to accrue cultural capital these days by merely being married to 'Queen B' herself. If there's ever been a time when men are defined by their wives, rather than the other way round: it's now.
Women in music are not only bolder, but much more willing and able to play with their sexual power, whether it's symbolically or literally. A recent study by two University of Missouri researchers has confirmed suspicions that female pop stars sexualize their content and other females in their music videos, proof that it's not just men who would have the ladies gyrating in skimpy dress. One interesting revelation from the study was that female pop artists were portrayed in sexualized dance more often than those in the hip-hop/R&B videos. Challenging the stereotype that sexualization is disproportionately an "Urban music" phenomenon. Our giants of femme-pop: Beyonce, GaGa, Rihanna and Katy Perry are just as willing to play fast and loose with sex as any male rapper — even moreso.
By no means do the females hold a monopoly on sex, but when the best exceptions are One Direction and Justin Bieber – both of which have a predominantly pre-pubescent fan base for whom actual sex is a few years away – mature sexual imagery and power has undoubtedly passed into the custodianship of women in popular culture. Even Justin Timberlake, a man who has a notorious ability to get hearts racing, has (like Robin Thicke, Bruno Mars and many more) opted to hustle his pop works in a suit and tie rather than a low cut V-neck and buttock-hugging pleather pants.
That's not to say that sex and creativity are synonymous. Certainly not. If anything pop culture has been confusingly taking its clothes off with artistic flare for too long, and we might now be scraping the bottom of the barrel in terms of how long with can continue pushing the same twaddle. Tim Ingham, Editor of Music Week, made an interesting observation last December when he pointed out that artwork for a recent Lady Gaga single and Beyonce's album booklet both featured strikingly similar photos of their backsides (see below). Tim came to the pretty agreeable conclusion that "Pop was running out of ideas". When two chief members of music royalty both try and shift the same "art" at the same time, it's much the same as when two ladies turn up to a wedding in the same expensive outfit. Only people attending weddings aren't trying to be creative pioneers.
Here's official artwork for Beyonce's new album booklet & Lady Gaga's latest single. Pop is running out of ideas. pic.twitter.com/DsiwUybblK

— Tim Ingham (@tsingham) December 13, 2013
If mainstream music of the male variety doesn't suffer from these moments of artistic redundancy, it's probably because they're not trying. If you have a penis, it seems being interesting is now a crime. Men might still be able to compete in the realm of music sales, but they're failing in pop's second job – to captivate and amaze like so many of pop's brethren have in decades past. This isn't a function of music that many embrace. Many are openly hostile to pop's pretensions of high art, creative significance and tabloid drama (although the last one for more understandable reasons). Why though, are a disproportionate amount of those people men? I'm not asking or expecting for dudes to rock up in face full of make-up, making veiled references to 18th poetry and declare class warfare. But more of an excuse to pay attention to what you're doing would be a step in the right direction.
Around the Web