Why 'Rumours' Was Such A Ground-Breaking Album For Fleetwood Mac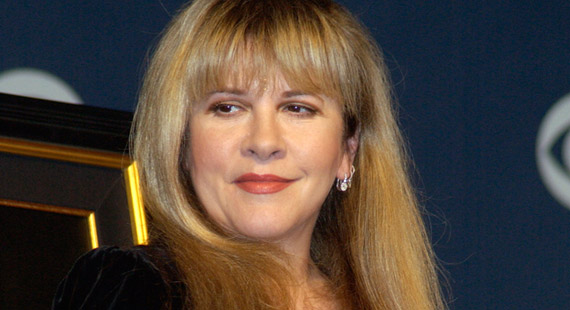 Featureflash / Shutterstock
Fleetwood Mac's 11th studio album, Rumours, sits alongside the likes of Michael Jackson's Thriller and Prince's Purple Rain as the kind of blockbuster record which is universally accepted as a pop classic. Its colossal success, (40 million copies worldwide, No.1 in both the UK and US, Grammy Award winner) is even more remarkable for the fact that it was conceived amidst a web of inter-personal strife that could have been scripted for a melodramatic soap-opera.
But it was this contrast between its radio-friendly soft rock sound and its voyeuristic themes of pain and betrayal that turned the band into a phenomenon. California, 1976 and the Mac were coming off the back of their self-titled breakthrough album, a Billboard chart-topper the year previously. Straying even further away from their early folk-blues beginnings, guitarist Lindsay Buckingham decided its follow-up should be the kind of all killer-no filler record where every track could be a potential single.
The idea to reach as big an audience as possible was at odds with the completely insular circumstances that surrounded its recording. Bassist John McVie and keyboardist wife Christine were in the midst of a messy separation after eight years of marriage and only communicated with each other on musical matters. Buckingham and vocalist Stevie Nicks became involved in a turbulent on/off relationship, whilst the latter also secretly often ran to drummer Mick Fleetwood, who himself was coping with the news that his wife was having an affair with his best friend. And reflecting the hedonism of the Laurel Canyon scene at the time, all this took place whilst the band were consuming excessive amounts of cocaine.
Ken Caillat, the father of Colbie, and co-producer of Rumours alongside Richard Dashut, later admitted that he became something of a therapist during its troubled recording sessions. But in a recently published book about the seminal album, he also claimed that despite the constant in-fighting, this was where the band learned how to play together, developing a musical intuition that helped to create the musical equivalent of Jaws and Star Wars combined.
From the dissection of Buckingham & Nicks' complicated relationship on "Go Your Own Way" to "You Make Loving Fun," a rather brazen ode to a man Christine was privately having an affair with, audiences lapped up this blend of dysfunctional romance, three-part harmonies and sun-soaked melodies in droves. Indeed, as well as spending an incredible 31 non-consecutive weeks on top of the Billboard charts, it also reached pole position in Australia, Canada and New Zealand, spawned their only US number one single, "Dreams," and eventually became one of the Top 10 best-selling albums of all time.
Fleetwood has since pinpointed Rumours as the most important album they ever made because it allowed the band to continue making records, but its impact on popular culture didn't stop dead in the late 70s. The Corrs were pretty much unknowns before their Celtic-pop reworking of "Dreams" helped them on their way to become one of the biggest Irish bands of all time, while the gorgeous balladry of "Songbird" launched the posthumous career of Eva Cassidy.
Elsewhere, the booming bass-line of "The Chain" has become synonymous with various sports thanks to its use on Formula 1 TV coverage, the hit Fox show "Glee" even dedicated an entire episode to the record earlier in 2011, while Bill Clinton adopted "Don't Stop" as the official theme to his first Presidential election campaign in 1992. And in 1998, a whole host of eclectic artists, including Elton John, The Cranberries, and Goo Goo Dolls offered their own take on the album with Legacy: A Tribute To Fleetwood Mac's Rumours.
Even the critics who initially dismissed the record for its commercial aspirations when it hit stores at the start of the punk scene, have been slowly won round by its charms, regularly placing it in the upper reaches of various Greatest Albums of All Time polls.
And although Fleetwood Mac have since been arguably even more bittersweet (1979's Tusk) and more mainstream (1987's Tango In The Night), Rumours remains the only record in their extensive back catalogue which manages to be both in such an effortless and captivating manner.
Around the Web