Music Midtown 2012: A Review
We've wrapped the second year of Music Midtown in Atlanta, and the expanded two-day festival brought in more bands and more fans to the belly of Piedmont Park. Although the cool relief of fall has been digging in its heels of late, there was nothing cool about this weekend. Temperatures kicked up into the 90s as shade was hard to come by, and as Garbage would say, "sweat it all out, sweat it all out." Day one had a good showing for bands like The Avett Brothers, Joan Jett, and the Foo Fighters. Saturday was greeted with a sellout of one-day passes as 52,000 fans crammed into the Meadow at Piedmont Park for acts like Florence + the Machine, Ludacris and Pearl Jam. We've already featured individual reviews on some of the biggest acts of the weekend, so let's say a little about the remaining acts as well as the festival as a whole.
Garbage – Shirley Manson and her band of merry men haven't been relevant in forever. They seem to recognize this as they blew the dust off all of their old hits, only subjecting us to a few of their latest songs (hint: the new stuff isn't great). Regardless, they sounded great and having a well-established act playing the early slot definitely encouraged ticket holders to show up many hours earlier than last year.
Adam Ant – This guy is weird. He was dressed like Napoleon, preening and thrashing about at the microphone. His act and overall persona seemed to overshadow the music. I don't get being strange for strange sake.
Joan Jett – Joan Jett still looks good at 54. She still has the bite, still is harnessing her inner rocker, but unfortunately her sound is starting to feel every bit of 54. I'm not one to push anyone off the stage before his or her time, but the countdown is on.
Foo Fighters – Dave Grohl and company proved the most surprising set of the weekend for me. I've never been a huge Foo Fighters fan, as their brand of rock is just a bit too poppy for my tastes. Regardless, these guys know how to rock an audience. Grohl is a master showman and really interacted with the crowd well, feeding off their energy. Their set was right up there with Pearl Jam and Florence + The Machine as one of the most impressive of the weekend.
Van Hunt – I hadn't run across Van Hunt prior to hearing him at Music Midtown. He's got a cool R&B vibe going on. He had a monopoly on that sound at Midtown and was a refreshing change of pace to kick off the festival Friday.
Neon Trees – This was a surprisingly high billing for what amounts to a one-hit wonder. Don't get me wrong. The boys of Neon Trees have a great energy on stage and really get into the music. Right now though, they are still simmering off the breakout hit "Animal" from 2010s Habits. In my opinion, that's not enough to pull off what amounts to the opening gig for Florence + The Machine.
Ludacris – The boys and girls may not have been completely feeling the love for T.I. on Friday, but they sure showed their affection for Luda when he hit the main stage on Saturday. The hometown rapper talked a little too much about all of his awards and all of his travels, but the music was hard hitting and backed up all those accolades he paraded out for us to admire.
Concert Tour has covered six festivals so far this year, mostly throughout the southeast, so we have a pretty good feel about what makes a successful event and when one is lacking. Music Midtown seemed to hit the middle of the road. The line-up, a Gen-Xers dream, was definitely one of the high points. Pearl Jam and Foo Fighters have a devote following and upcoming acts like Florence + The Machine and The Avett Brothers really showcase where rock is going. It was nice to have hometown hip-hop represented by the likes of T.I. and Ludacris. Maybe next year they will expand the stages to accommodate more local and diverse acts.
Where Midtown fell short was preparing for this many people. While the food and music were plentiful throughout, the port-a-potties and personal space were not. During peak times the wait for the bathroom was 30-minutes plus. Basically, you missed an entire act waiting to deposit the two beers you drank. Space seemed to be the biggest luxury that was absent. Piedmont Park has an expansive footprint in the center of Atlanta, but the relatively small footprint of the Meadow was used for the festival. By introducing another side stage or two on the other side of the park, as well as booking additional acts to play overlapping time slots, you could have more easily accommodated 52,000 people. As it was, anywhere near the main stage during Pearl Jam was tight to say the least.
In the end, I see Music Midtown as a festival that is building itself up to rival its past glory. It is certainly attracting the marquee talent, and the locals are showing with their wallets that this is an event they desperately want in Atlanta. Hopefully the success of the 2012 festival will spawn an even larger event in 2013 with more bands, additional stages and a few more places to relieve that overburdened bladder.
Check back with us next week as we wrap up the 2012 festival season with a look at the top acts from Atlanta's newest electronica festival — CounterPoint.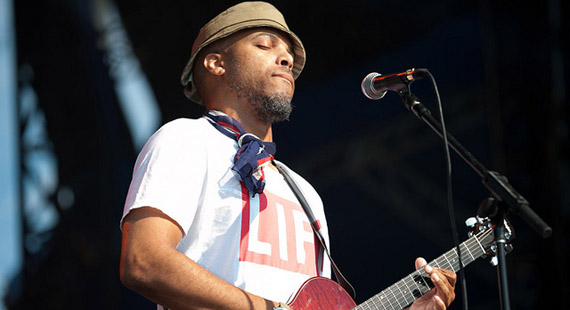 Mark Runyon | ConcertTour.org
Around the Web