Concert Review: Avicii at CounterPoint Festival in Atlanta
Atlanta welcomes electronica in a big way with the advent of the first annual CounterPoint Festival just south of the airport in Fairburn, Georgia. Literally tucked in the middle of nowhere, the festival takes root on an expansive farm that sits on the banks of the Chattahoochee River. Unlike last weekend's Music Midtown, CounterPoint has room to spare as it sprawls comfortably over the rolling landscape.
The day started out a bit rocky. Heavy storms moved in, forcing the festival staff to clear out the crowd to the parking area until the rain had subsided. For those who did make it in for Friday's festivities, I hope you were camping. Getting into the day parking area clocked in at over an hour wait. Why you ask? They did a search of every vehicle coming in, slowing the parking process to an utter crawl. In the seven festivals I've attended this year, not a single one did a car-by-car search. This was completely uncalled for.
Thankfully, this annoyance was the low point of the day. As the rains had subsided, the music was back in full bloom. Solid sets were unfurled by Crystal Castles and Theophilus London (filling in for M83), but the meat of the line-up was still to come.
Night fell as the lights came up for Avicii. The Swedish DJ has really taken off in the last few years. Earlier this spring, he headlined an arena tour, was featured at Coachella, booked for October's Austin City Limits, as well as introduced his latest work "Le7els" to his European contingent. There are few names in EDM that garner as much respect.
The first thing you noticed was, of course, the crowd. At CounterPoint, weird is definitely the new cool. I felt a bit like Don Draper at the hippie bar. Not that I was wearing a 60s suit, mind you. That would have fit right in. Normal and old (post-30) just doesn't jibe with this crowd. They came in decadent costumes, furry headdresses and minimal clothing. Have nothing more than a bra and panties clean — no problem. In fact you may just be overdressed. This was an event to see and be seen. People watching had become an art form.
As the cool of evening settled in, Avicii wasted no time converting this open field into a thriving dance club. He painted the sky with his brigade of lights. He dropped layer after layer of throbbing bass that even earplugs couldn't save you from. He whipped and spun, pumping his lone fist in the air. This was his club and his dance floor even if it didn't have a ceiling.
He bled one song into the next, inviting contemporaries as well as the classics. Florence + The Machine visited through "Say My Name." Smokey Robinson showed a little cool soul with "Tracks of My Tears." We even had The Who show up through "Baba O'Riley (Teenage Wasteland)." Never let it be said that Tim Bergling (better known to the layman as Avicii) doesn't have a stellar catalog of music. Though he sliced through his record collection, in the end, every song was morphed into one of his own. The beat just swallowed them whole, pushing them forward over the next pulse and thump. Avicii did give us some of his signature spins like "Seek Bromance" as well as "Levels" which proved definite crowd favorites.
As enthralling as this waterfall of beats was, it would have been nothing without the light spilling out from every pore of the stage. Avicii stayed tucked within the shadows as the video boards flickered and streamed. The spotlights shot out over the crowd in feverous frenzy, highlighting this gyrating sea of fans. The lights bobbed and weaved as the beats evolved. The shinning flurry seemed to take on a life all its own.
Avicii's goal at CounterPoint seemed to be to help his fans loose themselves in the music. I'd say he succeeded and then some. I can't imagine the challenges that come along with taking a club sound and introducing it to the wilds of an open-air festival, but he made it work. Avicii was dubbed the world's number 6 spinning maestro last year by DJ Magazine for good reason. The top 5 better watch their backs.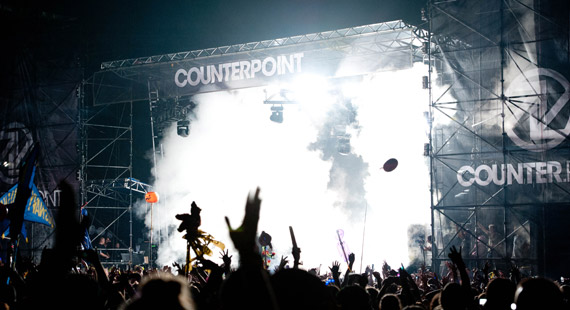 Mark Runyon | ConcertTour.org
Around the Web