Coldplay Channel Bon Iver in New Single 'Midnight'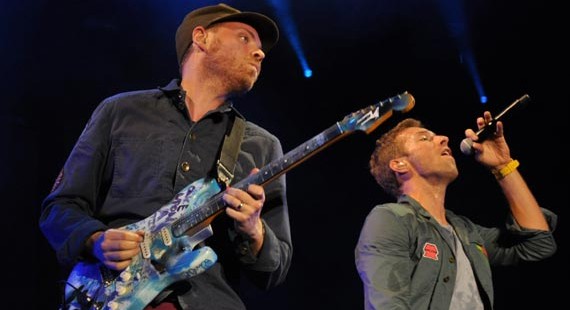 Mark Runyon | ConcertTour.org
Coldplay have only gone and done a Beyonce, releasing a surprise new track at midnight, Ulaanbaatar time. Said track, somewhat unsurprisingly given the context, is called "Midnight."
Presumably from the band's upcoming sixth studio album, the track is something of a departure from the anthemic festival sing-a-longs the band have become known for and represents the band's first output since 2011's Mylo Xyloto.
Not only that, but the five plus minute track bears more than a passing resemblance to Bon Iver, featuring tinkly electronics, the closest Chris Martin has ever come to sounding like an ambient robot, and a steady build to a synthy chorus.
"Midnight" came with a melancholic black-and-white video, directed by Mary Wigmore, who made the band's "The Hardest Part" video clip and is also the godmother of Martin's and actress Gwyneth Paltrow's daughter, Apple.
No word yet on whether or not "Midnight" actually is the first single off the band's new album yet, or who produced it, but fingers crossed we'll all find out soon.
The band's last studio effort, Mylo Xyloto, was released in October 2011 and went on to sell over eight million copies worldwide.
Since then, Coldplay have remained relatively quiet. In September of last year, the group revealed their track "Atlas", which was taken from the soundtrack to the film The Hunger Games: Catching Fire, and in December 2013, they played a surprise intimate show at a pub in Somerset where they treated attendees to tracks including "Yellow", "The Scientist" and "Paradise".
Coldplay are set to appear at this year's South By Southwest Festival in Austin, Texas. The British band will perform on the first night of iTunes Festival at SXSW, the first time the music provider has brought its own festival to the US event. Coldplay will play live as part of a bill which also includes Imagine Dragons on March 11th at ACL Live at the Moody Theatre.
Around the Web