The Best Songs of John Frusciante, Guitarist of Red Hot Chili Peppers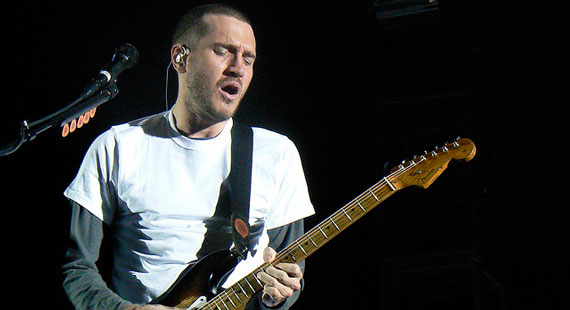 The Red Hot Chili Peppers have a ton of personality. It's apparent on their records, but most prominent when they're on stage. Anthony Kiedis is a frenetic and active frontman, his melodic gargle of a croon and swaying personality serving as the perfect fit to the Chili Peppers' infectious mixture of alternative, funk, and punk. Then there's Flea, one of the most famous bassists in the world, renowned for his technical virtuosity as well as his tirelessly energetic stage presence. This is a band that is far from understated; they are born performers, wowing audiences with their ability as well as their unstinting work ethic. So it's easy to see why some can forget about John Frusciante, the band's guitarist until he left in 2009. He is easily the band's most stylistically diverse songwriter, as evidenced by his stunning solo career, but alongside names like Kiedis and Flea, he's simply another member of what can now be deemed a super-group. He's hugely responsible for some of the Chili Peppers' greatest successes, but listeners should not forget some of his achievements as a solo artist, either. Here are seven John Frusciante tracks that no one should miss, each from a different album – meant to showcase his wonderful stylistic depth:
"Ascension" – The acoustic tones of 2004's Curtains present Frusciante's songwriting with some of the greatest clarity listeners will find throughout his discography. As his stylistic experimentation can sometimes obscure his ingenious melodic shifts and performance value, this is a release that goes back to the basics, at least as much as someone with Frusciante's ability could. The sonorous "Ascension" mixes heavy acoustic strums with an airy synth pad and Frusciante's emotive and nasally croon. Curtains is one of his best solo releases for this reason, in that it presents his songs without any frills. There are enough of his releases that value virtuosity, but consider the graceful beauty of this track or trickling ballad "Time Tonight", and the beauty of his art becomes heavily apparent.

"A Firm Kick" – Some artists wait a career to carve out quality albums like Frusciante did in the year 2004 alone, when he released six full-lengths. The aforementioned Curtains was one of them, and that album's acoustic-driven tone is contrasted by Inside of Emptiness, a hard-rocking burst of energy headlined by efforts like the powerful "A Firm Kick". Mix blasts of thunderous guitar with quivering backing vocals and a strong lead, and it represents the album's supreme quality well. Some say this resembles the work of the Chili Peppers the most out of all his solo albums, and with a track like "A Firm Kick" it's easy to see why that argument is made. Regardless, it's an exceptional track off one of his best albums. Also recommended off the release is "Look On", which ponders the usefulness of luck over hazy guitar solos and a crunchy rhythmic backbone.

"Loss" – We stay in Frusciante's busiest year (2004) for this one, off another album (The Will to Death) known for its likeness to the Red Hot Chili Peppers. "Loss" works well with an electric guitar attack, along with halted bass loops that correspond brilliantly with the fragmented percussion. The subtle keyboard backing toward the end adds an extra touch of elegance, as Frusciante's melodic "la-la-la"ing toward the end is all that's necessary to render the track as a piece of melodic bliss. Also on the album is "A Loop", which uses backward instrumentation brilliantly; it's an excellent showcase of Frusciante's oft-underrated production chops, which balance creativity with accessibility.

"In My Light" – Finally, a John Frusciante song not from 2004! "In My Light" is actually from very recently: 2012. Frusciante's recent EP, Letur-Lefr, made some longtime fans scratch their heads due to its electro-heavy composure. His fascination with electronica has been touched on before, like on 2004's A Sphere in the Heart of Silence, but never before has he embraced it with such passion and daring commitment. Something like "In My Light" may take some getting used to, but underneath its oddities there lies a gorgeous pop track. Reminding of various glistening electro-pop variants, "In My Light" hops around with a bubbly bass, fleeting synth solos, and Frusciante's trademark nasal, which assumes a tone akin to '80s funk-electro hybrids. The various structural transitions could have easily sounded awkward, but Frusciante pieces it together in such a cohesive way that you want to hear more, and keep playing it over and over. Few tracks define Frusciante's boundless stylistic endeavors. Listeners have no clue what to expect next. You can't say that for many artists these days.

Around the Web