8 Bands Who Could Become the Next One Direction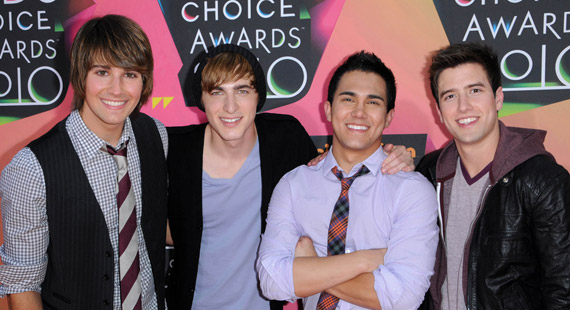 s_bukley / Shutterstock
The boy band is an artifact of popular culture as old as time itself and despite its waxing and waning popularity, the 2010s have resurrected its eternally youthful corpse as One Direction, who function as a universally-recognizable symbol – one that proclaims 'I am boy band and I have returned with bigger hair than ever.' Yes, Harry Styles, I'm looking at you. As 1D signal a new era of tween-friendly music, the question on everybody's lips (well, not everybody, but you know what I mean) is: who's next to grab the baton?
Smart money is on one or two of these rising pop bands:
Big Time Rush
Actually, Big Time Rush are more like the next Monkees, but since One Direction were the new Monkees through a long chain of transitive relations, saying Big Time Rush are the new One Direction is just like saying they are the new Monkees.
Big Time Rush kickstarted their musical career (as is common in the boy band universe) on television, being signed to Nick Records, and later, Columbia Records, after the final series of their show had aired.
One Direction actually originally supported BTR (ouch!), but these guys look to be in for the long haul. Their floppy hair only serves as a testament to that commitment.
AJR
AJR are comprised of three brothers, all of whom, despite being musical n00bs, have already made waves on the touring circuit, opening for Demi Lovato in Pomona, California last September, and racking up 200,000 views on Youtube in under 24 hours for their song "I'm Ready."
Midnight Red
Midnight Red are old hands at this boy band game, having settled on a punchy two-word name. They've opened for the Backstreet Boys and New Kids on the Block way back in 2011 and in the process have perfected their 'boy band identities.' There's one member with an impractically trendy haircut, one who is prettier than most girls I know, one who wears wacky shirts – they've got it all. I don't even want to know how old you have to be to stop being referred to as a 'boy band', and conveniently neither do these guys.
Before You Exit
OMG ANOTHER SET OF BROTHERS. Before You Exit is Connor, Riley, and Toby McDonough and they smile so hard in all of their promo shots it's difficult to know which one to love the most. "I Like That", their first single, has amassed over a million views on Youtube. The trio have also opened for acts like Olly Murs and Cody Simpson. They look as though they were carved from tween-girl heart-melting clay.
District 3
You know you're onto a winner when your band name ends with a single digit. Honestly, there are few boy band naming formulas that guarantee such success as this one.
Team that with District 3's origins as UK X Factor contestants and their social media presence, which sees their Twitter following at just past 400,000, and you've got a serious contender on your hands.
Emblem3
Emblem3 also hails from the X Factor talent mill, the US variety, and are serious heartthrobs in their own right.
Emblem3, made up of Wesley Stromberg, Keaton Stromberg, and their friend Drew Chadwick, win out for one reason, and one reason alone: that's right – two thirds of the band are brothers. Seriously though, they've had an opening slot on Selena Gomez's tour and released their debut EP, Nothing to Lose.
Union J
And, before we get bogged down in unimportant stuff, I'd just like to take this time to point out that Union J, too, are the spawn of The X Factor, having finished fourth on the UK version of the show in 2012.
Since then, their single "Carry You", which was released in April 2013, has garnered over 5 million views on YouTube, and one of the clan has found himself in the midst of Selena Gomez dating rumors. Hey, it worked for Justin Bieber so I wouldn't argue with this potential recipe for success.
The Vamps
The Vamps are an achingly young British import who've found somewhat unexpected fame with their single "Can We Dance". The video has raked in over 4 million views. The Vamps steal the top spot for a number of reasons, but mainly because their DIY (or, at least more so than most entries on this list) approach to song-writing has given them a much-deserved edge over the competition. Also, look at their little faces!
Around the Web